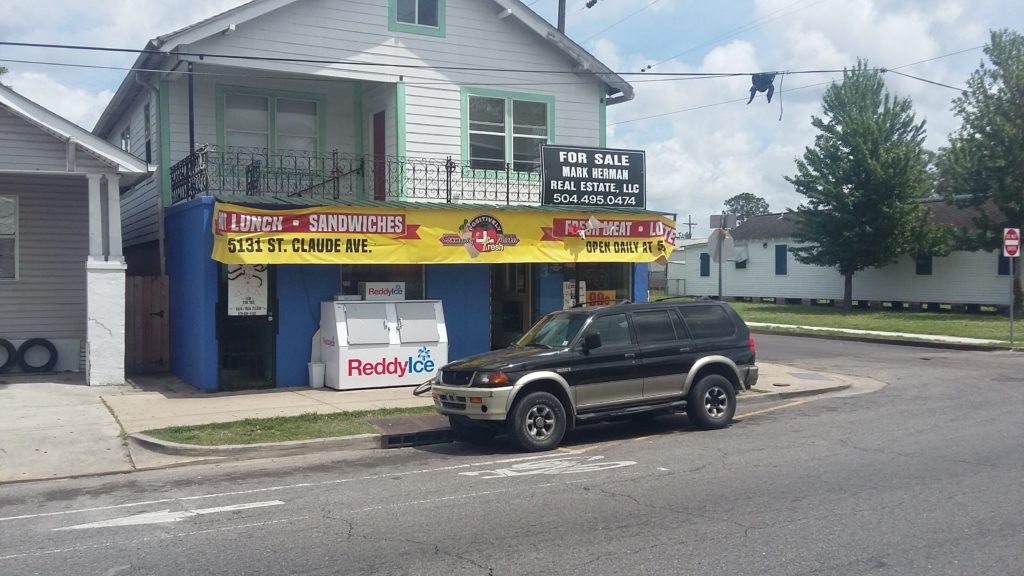 Big Easy Eating Budget Keep It Local
You might have noticed that every place we've reviewed so far on this blog has been a convenience store that also serves hot food. When I lived in New England, convenience stores really only served terrible hot dogs (that, unfortunately, I ate a lot of) that are cooked on those weird metal spiny things.
But down here in New Orleans we're blessed with some incredible food that comes out of unremarkable looking shops that mostly sell beer cigarettes and chips. These convenience stores, I would argue, are "the people's restaurants." For people who can't afford (or just don't want to) spend $15 a plate going out to TGIF or Red Lobster, New Orleans offers cheaper food that tastes much better than that chain restaurant crapola. This is a criminally under-appreciated aspect of New Orleans much celebrated food culture.
With this in mind, let's journey to the Lower 9th Ward. A lot of tourists come here to tour the site of Hurricane Katrina's most extensive devastation and to stare googly eyed at the super eco-friendly housing that Brad Pitt built through the Make It Right Foundation. Though Brad Pitt made a well intentioned (though kind of ugly and expensive) effort to rebuild the Lower 9, it's still full of empty lots and there are really not a lot of businesses there.
I used to go to the laundromat on St. Claude as you get off the bridge over the Industrial Canal, which is the cheapest (and maybe sketchiest) place to wash clothes that I've found downtown. When I'd do laundry there I'd usually get a shrimp poboy from Brothers Market, which is in the same stripmall as the laundry place. Their shrimp poboys are pretty cheap and decent, though they're 10 inches instead of the usual 12. I'd purchased this sandwich dozens of times before I ventured across the street and found the vastly superior Positively Fresh Community Market.
This place rules. When we went in the sound system was playing Bam Bam by Sister Nancy, and the store was staffed by three very sweet women. There aren't a ton of options for what to get but what they do have is really good.
I got a pork chop plate for $7.99 which came with cabbage, baked macaroni, and a piece of cornbread. This is a ton of food. The pork chop was pretty good but a tiny bit dry. Everyone who tried the baked macaroni said it was their favorite. It tasted like if Chef Boyardee was actually a really delicious and fresh made product. The cabbage was the best I've had in a while. Though it was very soft (which I'm not always into), it wasn't watery at all. It was saucy and really well seasoned. The sausage in the cabbage is the cheap sausage you find all over New Orleans, which is pretty good but not the best. A lot of places use the same sausage but charge way more for it. It also had some ham hock in it which was a really welcome addition.
My friend got the baked chicken plate for $5.99, which I think is the way to go. It came with cornbread, butter beans, and mac n cheese. The butter beans were a little bland, but probably with a little soy sauce would have been better. The mac n cheese is great, though the baked macaroni is better. The baked chicken was not dry at all and was bursting with flavor. The cornbread was a touch above the Jiffy stuff you usually get.
All in all this place is totally worth trying. Get the baked chicken with baked macaroni and cabbage and you've got a ton of great southern food for $5.99! You'll be supporting a business that caters to locals in a part of town that really needs your money. If you are visiting New Orleans, or are a transplant here, it's important to patronize the kinds of places we write about in this blog. Every time you spend money at Reds Chinese instead of Positively Fresh Community Market, you're hammering one more small nail in the coffin of the vibrant, working class neighborhoods that have built all of New Orleans "cultural capital" and which are being rapidly gentrified. Vote with your dollars against the "New" New Orleans! Eat cheap and good.
If you like this article, please share it!