Frady's One Stop Food Store
Basically, the Bywater sucks now. I moved here five years ago and it was almost a total suck-fest then too, but the transformation is completed. Every house is worth at least half a million dollars, and you can't tell whether people aren't saying Hi to you because they're rich snobs or because they're too busy trying to remember how to get to their AirBnb. I think probably the Bywater used to be a wonderful place. One of the last vestiges of this once-worthwhile neighborhood culture is Frady's.
Frady's is a place where sweet old weirdos come to feel comfortable. An island floating in a sea of over-priced hipsterdom. The people there are funny and kind, the décor is bizarre, and the food is probably the most reasonably priced in the whole neighborhood. They've got different daily specials each day: a hot plate costs $7.50 and is a whole lot of food.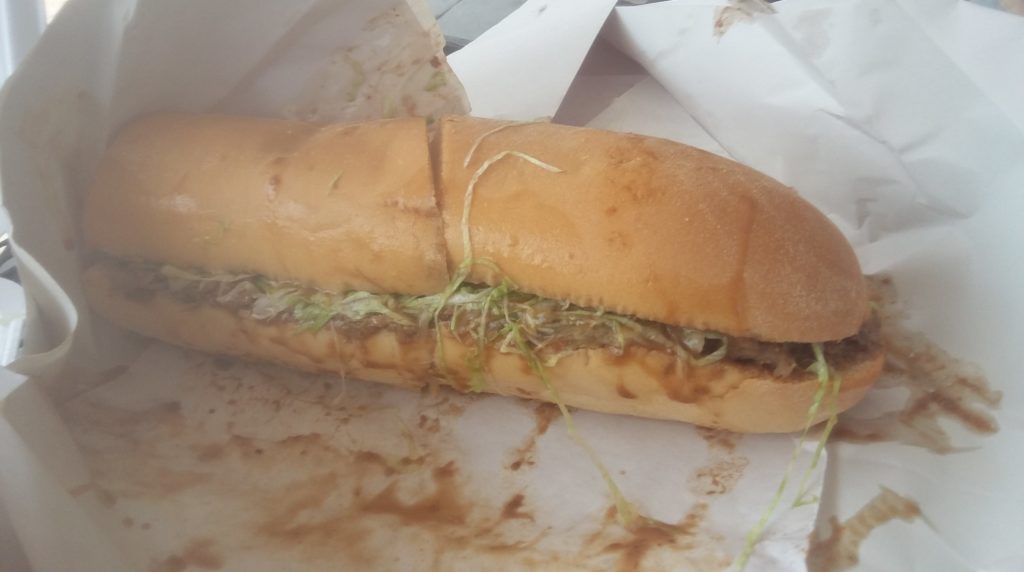 We started with a 10 inch roast beef poboy with gravy. Like all good poboys with gravy, it was sort of more like eating a soup served on some bread. Grab a lot of napkins, and get messy! It's totally worth it. For people that aren't gluttons like me and my friend, the roast beef poboy is a perfect meal to split – you can fill up for $4 each! It could also be a great date spot if you lick the gravy off each others faces. This is worlds better than a lot of places roast beef poboy. My only complaint was that the gravy was a little on the thin side.

We also got the pork chop with dirty rice, cauliflower, potato salad, and it came with two buttered pieces of french bread. I know that a lot of people believe God doesn't want us to eat pigs, but gosh, this pork chop was a piece of heaven. It wasn't too dry (which is a risk with a lot of corner store meat, particularly pork) and kind of crumbled under the weight of the fork. The cauliflower actually had flavor, instead of the plain steamed stuff you find most places. The potato salad was homemade and great. The dirty rice was everything I wanted it to be – little hunks of ground beef, plenty of spices, the perfect compliment to the pork chop.

I didn't get to try it, but they serve breakfast all day at Fradys, and the Grumpy Old Man special (perhaps named after Frady, who lived across the street and is in his 90s and is a total sweetheart) looks good and is only $5! Though the decorations could actually fit in a hip establishment, Fradys is old school. They don't have wifi – try to unplug and talk to some of the wacky regulars that are loitering outside!

If you really need to check your email that bad, go across the street and be part of that abomination known as Satsuma: get an expensive fresh-squeezed juice, compare ironic tattoos with the stranger waiting in line behind you, stop for a minute and try to remember whether you're in Seattle or Portland or Brooklyn or the Bay Area… you've been to this coffee shop a million times, in dozens of different towns. It's so comforting to be home no matter where you go, isn't it? Now go away, please.

If you like this article, please share it!