Walking around a cemetery full of crumbling tombs might seem pretty creepy, and unless you're a certain type of person, you might find the thought unsettling, or even wrong. However, by exploring a "city of the dead", we can actually learn a lot about how people in the past lived, and perhaps even gain clues on how we should live today.
I have conducted tours of New Orleans' oldest cemetery, St. Louis Cemetery #1, for the last seven years, and it has in countless ways given me a new appreciation for life. I had never thought much about symbolism or architecture, but in searching for a convenient and engrossing way to explain the history of the city I love, to people from all over the world, I found the imagery used on St. Louis Cemetery #1's tombs as a great metaphor for how we all should live.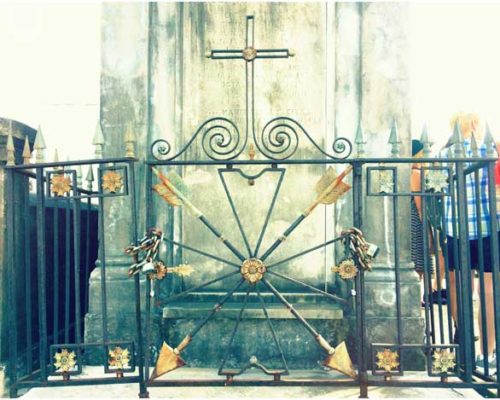 You'd maybe just expect lots of crosses, as the cemetery is Catholic, but there are other symbols throughout, many of which are pre-Christian. One of my favorites is an hourglass with wings, which symbolizes the fleeting nature of life. Many of these symbols are very old, or even ancient. Nora Godard, a real-life goth tomb-restorer, wrote this excellent article about common cemetery symbols throughout the world, and many of those symbols are found in New Orleans' cemeteries.
The first thing I think we all learned when either a grandparent or a beloved pet died is that life is impermanent, and that death is sudden and often random. This was especially true in New Orleans in the 19th century, when premature death was quite common. I don't think it's much of a leap to connect New Orleanians' propensity for wild celebration to this proximity to death.
With all this in mind, I am really excited to announce that Nola Tour Guy's Free French Quarter and St. Louis Cemetery #1 Tour will now be offered daily, at 11am. As far as I know, Nola Tour Guy offers the only "pay what you feel tour" that combines a historical tour through the French Quarter, with a visit to our oldest cemetery (including a stop at Marie Laveau's tomb). Due to rampant vandalism a licensed guide is required to visit St Louis Cemetery #1. Since we think it's important that everyone has a chance to learn the history of the city and visit our oldest cemetery, so we offer this tour on a "pay what you feel like" basis. Most people contribute $10-20 per person at the end of the tour, which allows us to continue to offer it daily. To learn more about our tours: check out this page or book today.
.
If you like this article, please share it!