A Beautiful Crescent: A terrible book for tour guides
"I've always felt that it is impossible to engage properly with a place or a person without engaging with all of the stories of that place and that person. The consequence of the single story is this: It robs people of dignity. It makes our recognition of our equal humanity difficult. It emphasizes how we are different rather than how we are similar." – Chimamanda Ngozi Adichie, Writer & Journalist in her The Danger of a Single Story TED Talk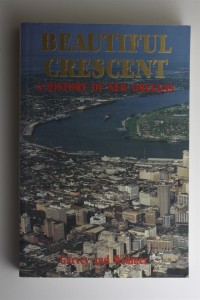 The process of becoming a tour guide is shockingly bureaucratic, but the knowledge one must possess is terrifyingly simple. This in part due to how the exam is designed and the book utilized by the test designers to design the exam, A Beautiful Crescent. The book is "recommended" by the department that oversees the issuing of tour guide licenses, the Taxi Cab Bureau, in New Orleans as a study guide of sorts in part because the tour guide exam's questions are derived primarily from the book. The book's importance strictly resides in its overview of classic French Quarter architecture which is second to none and a major part of the exam. The fact that visitors are interested in learning about the unique architectural styles that dominate the historic core of New Orleans is not surprising nor should it be underestimated. However, outside of the architecture showcase within the book, individuals interested in learning about the history of New Orleans are often left with incomplete, incorrect, and bias information due to the nature of the book.

Lacking a Compass?

Since its initial publication in 1982, there have since been thirteen equally terrible "reissues" of the book. I say "reissue" because in each new edition, there remains very little updated changes, copy editing, etc. A quick glance at several editions shows that lovely gems such as "Jews were too clever at merchandising to be attracted to a floundering trading post, when they could stay in the Caribbean, where they were doing a great business [sic]" (page 101) or "The people of New Orleans never became Spanish-speaking people until the Cubans began arriving in the 1960s" (page 41, immigrants from Latin America started arriving earlier than that) remain throughout most editions.

A Beautiful Crescent isn't just terrible because of casual racism (negresses, negroes are used to refer to Black people despite the fact that my edition was published in 1994), xenophobic undertones, and misogyny that can be found throughout the book ("There was a shortage of unmarried women in the colony, and the men were forced to take Indian squaws as brides."). Nowhere do we hear about women's connections to cuisine, creating art, creating music, as entrepreneurs, and/or their roles as leaders in the community. It sound rather reductive, but women serve no role in A Beautiful Crescent they simply act as a backdrop as human vessels to carry on for the the prosperity of the colony, the territory, and later the state of Louisiana. Again, we see that a book that is utilized to train tour guides leaves out 52% of the population.

The major issue is that it reduces New Orleans' culture, sociology, gastronomy, and history to a simple narrative of nothing but "great men" and quirky, fun personalities.

The Danger of a Single Story

If you've heard Chimamanda Ngozi Adichie's TED Talk titled "The Danger of a Single Story" then you may understand my concerns. Adichie posits Western cultural supremacy as an active agent in stereotyping and boxing in individuals from non-Western cultures. Adichie states in her TED talk that "Stories matter. Many stories matter. Stories have been used to dispossess and to malign, but stories can also be used to empower and to humanize. Stories can break the dignity of a people, but stories can also repair that broken dignity." The histories of ALL of New Orleans' people matter because they inform "why" things are like they are now. If we listen to the history of economic exploits and woes in southern New Orleans, we begin to understand music as resistance. If we begin to understand segregation, then we begin to understand dishes like Yaka Mein. Diverse stories, from diverse perspectives help us unravel our simple thought processes of "Nawlins" (fun fact: NO ONE, I mean no one pronounces New Orleans like "Nawlins").

Ultimately, popular narratives regarding the city exist in mass due to a need to sell the culture which is why tour guides need to be certify. Going back to A Beautiful Crescent, we learn of the history surrounding Marie Laveau. To me, she was a hustler. A gangsta before there were gangstas. Clever, astute, and strategic she used metaphysics and fear of the unknown to win over elite Uptown wealthy women as customers by scaring their servants who believed her to be able to wreck metaphysical harm on them. They told ALL of their bosses' secrets in order to appease Laveau. She was able to sway political and economic deals through her "witchcraft" work. Ultimately, she was a double agent and an investigator. I'm not saying that she was the most ethical).

However, usually most of my friends who attend tours learned only the sensual aspects of Laveau's "life": she danced with snake and got people to engage in orgies. If you read the section about her in A Beautiful Crescent, sadly that's what you'll learn as well (page 100).

Other aspects of New Orleans culture and history being turned into a single story includes the authors "disinterest" in anything not germane or "native" to THEIR perspectives. On page 125, the authors opine that "New Orleans is the birthplace of jazz, which is its only contribution to the arts." Ever heard of Degas, E.J. Bellocq, Kate Chopin, Anne Rice or Tennessee Williams? I'm not sure what the authors thought of early Bounce music at the time, but I'm sure they didn't consider it to be an art form.

Ultimately, A Beautiful Crescent is the history of the controllers of public discourse, designed to put forward and center the experiences of the descendants of the wealthy slave holding class and/or those who identify with their particular viewpoints of the social, economic, and political development of New Orleans. Having heard these viewpoints for a large portion of my life, I understand how the book got published, is utilized by the city, and recommended in bookshops across the French Quarter.

Another Approach?

While I find A Beautiful Crescent extremely problematic, I must say that it is a great resource as mentioned before. For me, I believe a better, more comprehensive exam should be put into place that equally covers the histories of all people. It should cover the geographical, social, political, and economic footprints of these people and showcase the "cultural gumbo" that they've created together. This can be accomplished by designing an exam that uses multiple sources. Sources I believe to be useful include:

"An Accidental City" by Lawrence N. Powell

"Bienville's Dilemma" by Richard Campanella

"The World That Made New Orleans" by Ned Sublette

"Black Life in Old New Orleans" by Keith Weldon Medley

There are countless more books that you could probably add to the list. Certainly in 2019 we can find a better book or set of training tools that are better than A Beautiful Crescent. Let me know your thoughts.

If you like this article, please share it!